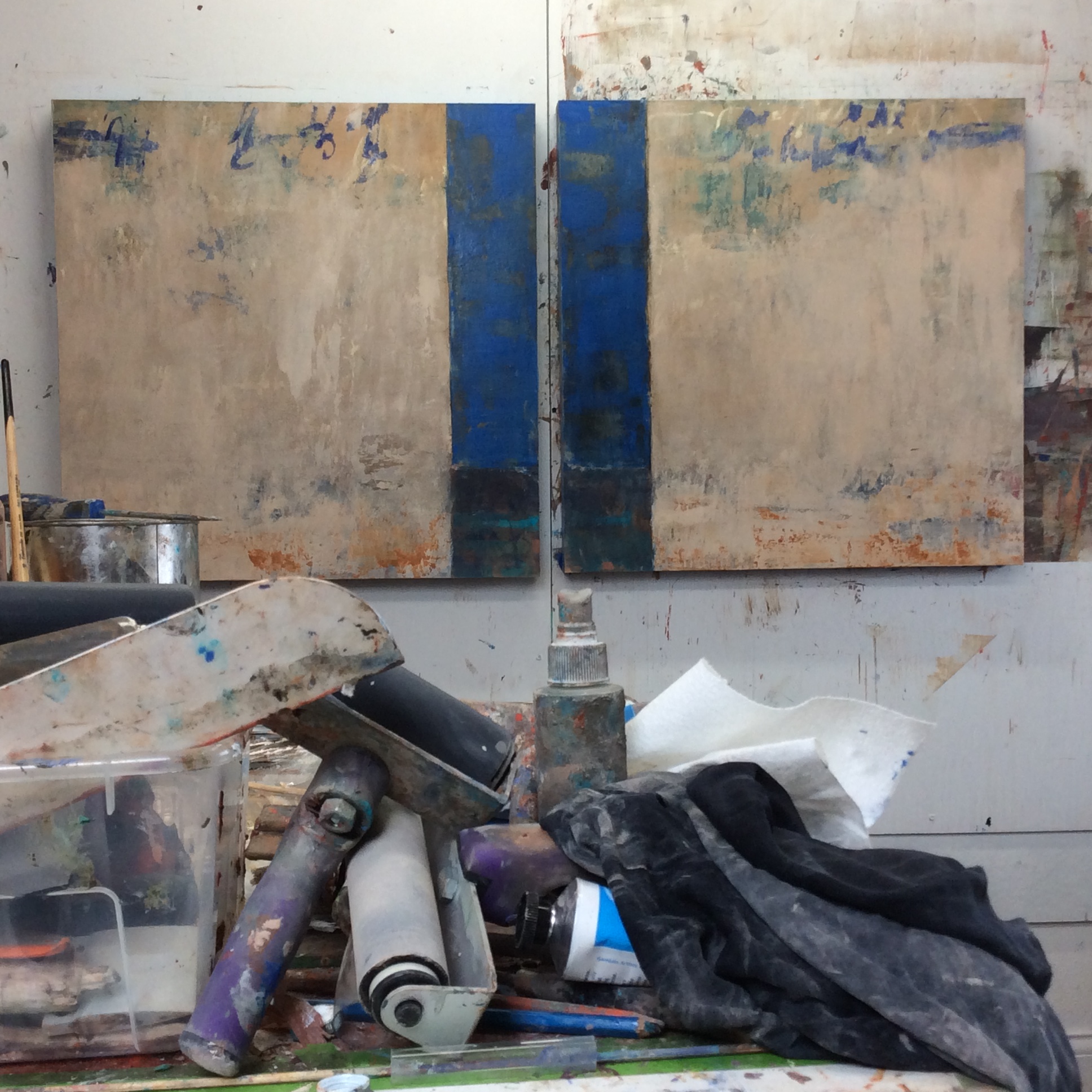 in situ
Lasciato alle Spalle    30″ x 60″    oil/cold wax/mixed media on panel – shot from my home studio in Bayview
I wanted to share a few recent musings and thoughts from my studios…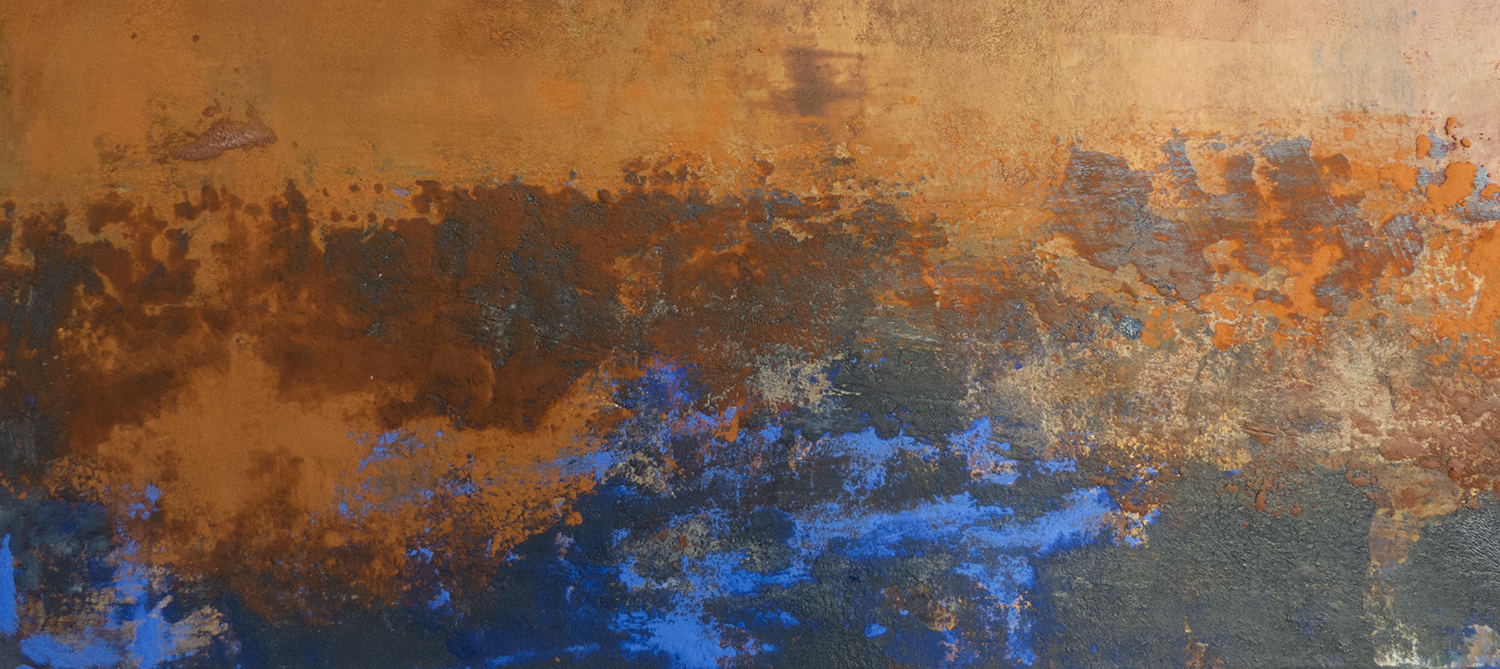 detail of a work in progress
I respond to the evocative nature of a palimpsest revealing the forces of time and atmosphere intertwining with the random marks and other vestiges of human touch. Forms that hover in an indeterminate space contain a visual resonance that is intriguing to me. The longer I paint, the more I understand that it takes quite the orchestration to achieve a compelling surface. This usually has to unfold gradually over many generations of layered paint. I know for me, this takes both specificity and chance within the whirlwind of painting activity. I'm drawn to the effects of time and such natural elements as wind, water, and sun, on manmade structures. These may range from places as far away as the fading frescoes of Pompeii and as close as my present day urban environment. Since my inspiration comes from effects that build over time – often decades and sometimes centuries, creating this look is an ongoing challenge of materials and process. I find it's a balancing act of grand opposites. While building a painting, sometimes I proceed slowly so I can really watch what is happening and at other times it's a matter of rushing in with abandon having little idea exactly where it will go.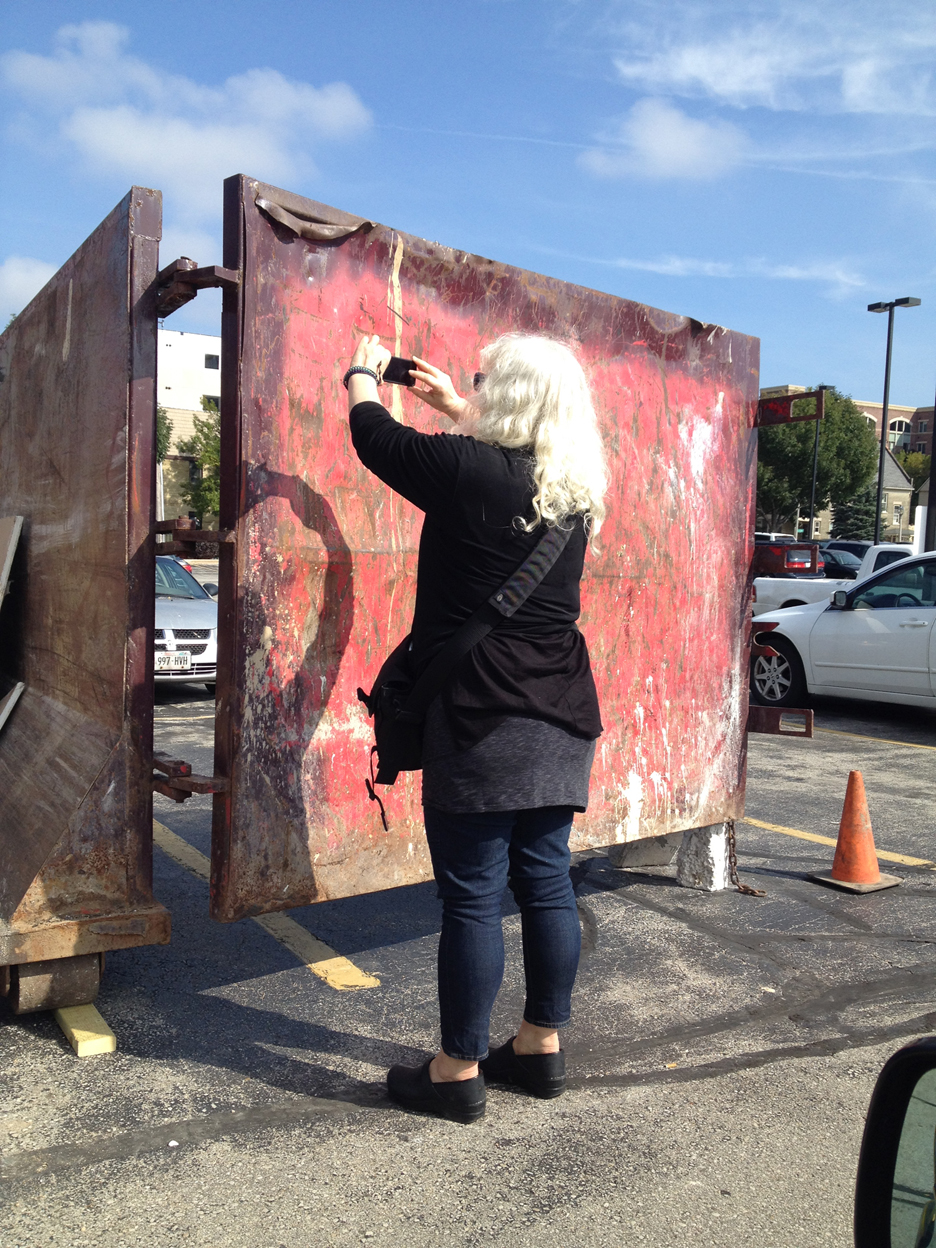 Finding inspiration in the color and patina of our urban environment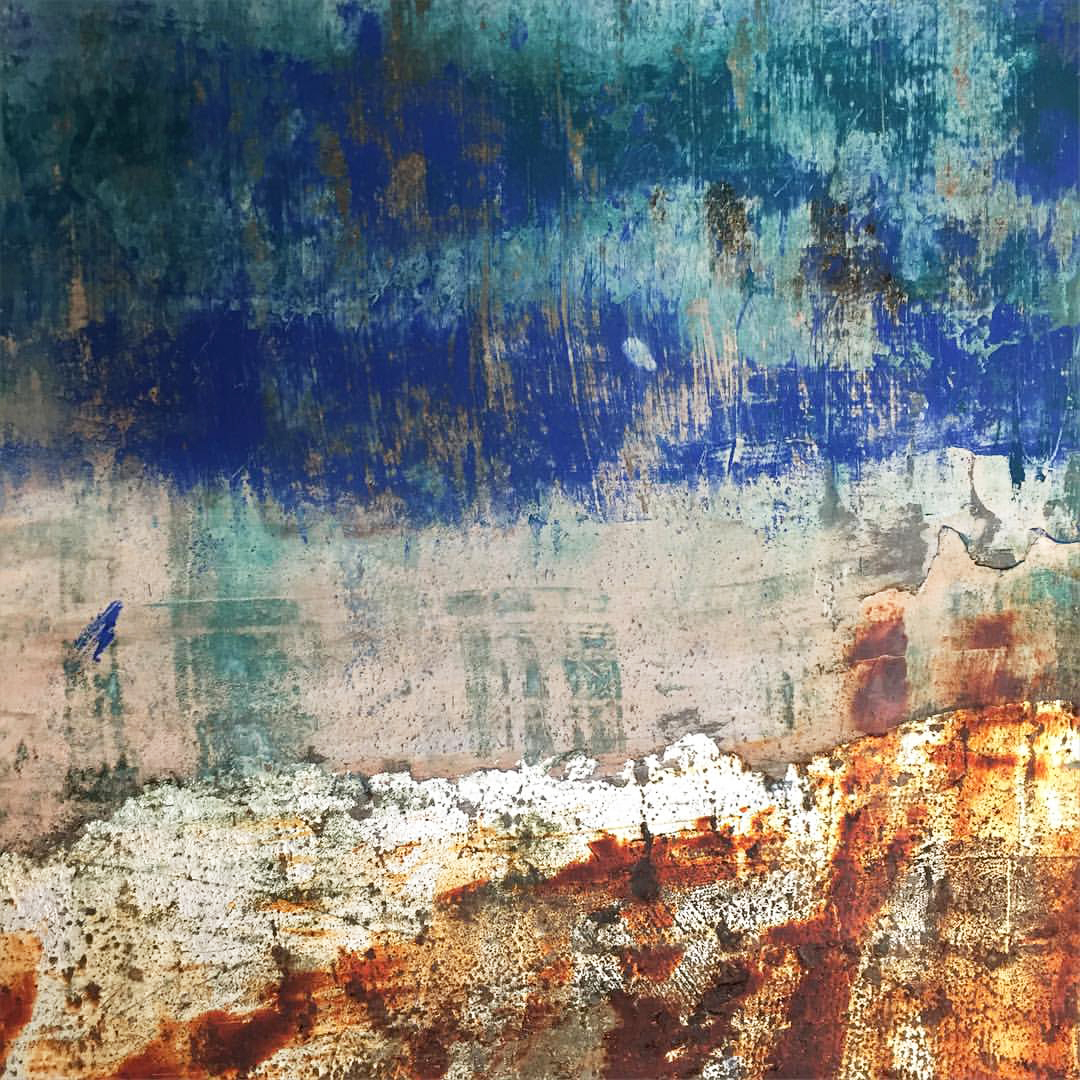 detail of Desiderio Sequente   16″ x 16″  oil/cold wax/silver leaf on panel
My past students know I often encouraged them to loosen up and 'throw caution to the wind.'  I think about this sometimes while working to build a surface. Giving up initial gestures can be both hard to relinquish but also kind of freeing at the same time. What I love in the beginning usually ends up being buried under successive generations of paint forever.  Only after building layers and layers of paint does it become clear that the proverbial 'ringer' of time and touch does have its rewards. This is both an additive and subtractive process and may involve lots of ambitious layering or an excavation – digging to discover treasures below. The chase of losing or gaining it all keeps things interesting because riding that wave is rarely predictable.  This never ending rhythm of chance makes my current work possible.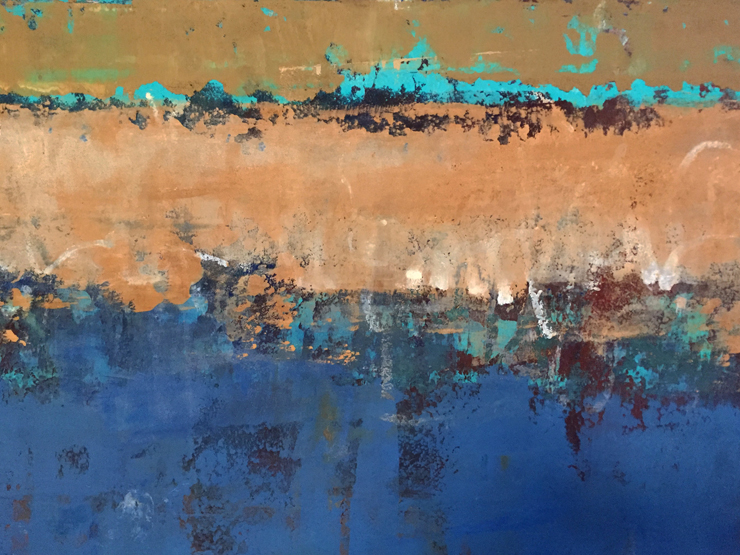 detail shot from Messagi Lotto I    48″ x 36″  oil/cold wax/mixed media on panel
This week, for a number of reasons, I painted more at home than at the Lincoln Warehouse studio. Most often in the last half year or so, its been the other way around. It's been very interesting over the many years to work in two studios – one relatively small space in the attic of our home and two different expansive spaces in converted warehouse buildings. I am certainly grateful for the range of artistic experiences between the two somewhat opposite environments. While there are moments that seem daunting hauling stuff back and forth, there are practical and conceptual benefits in changing locale. On a practical level, it allows things to cure and dry for a while in each space. I can definitely work larger and on more pieces concurrently in my commercial studio. On a deeper level, the physical and mental distance between the two spaces allows for a unique type of artistic contemplation. After being in one  location for a few days, returning to the other studio with fresh eyes can be an inspiration in itself. There are bridges between the two very different worlds. The digital trails I create through endless documentation offers insight into my working process independent of where the paintings are made. I've come to think of painting in two studios as a kind of exploration akin to traveling in a way. It's always wonderful to venture, and always great to be home!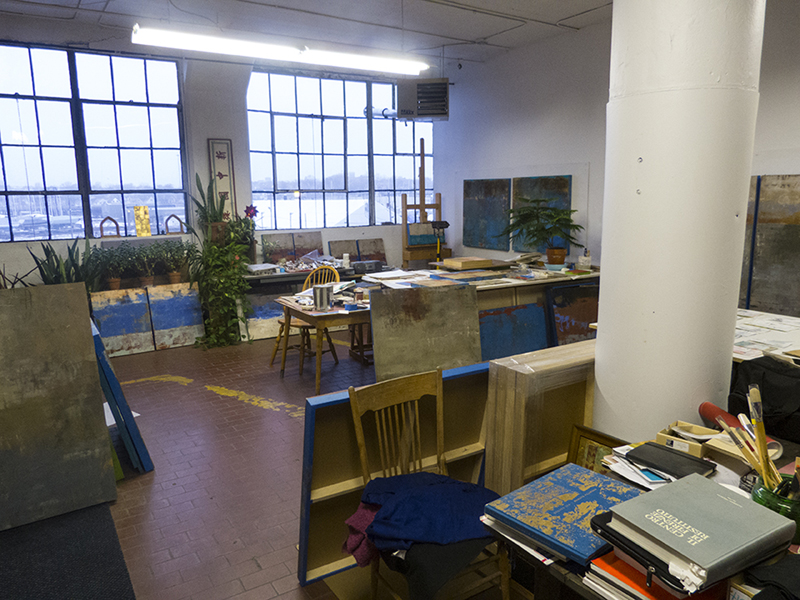 Lincoln Warehouse Studio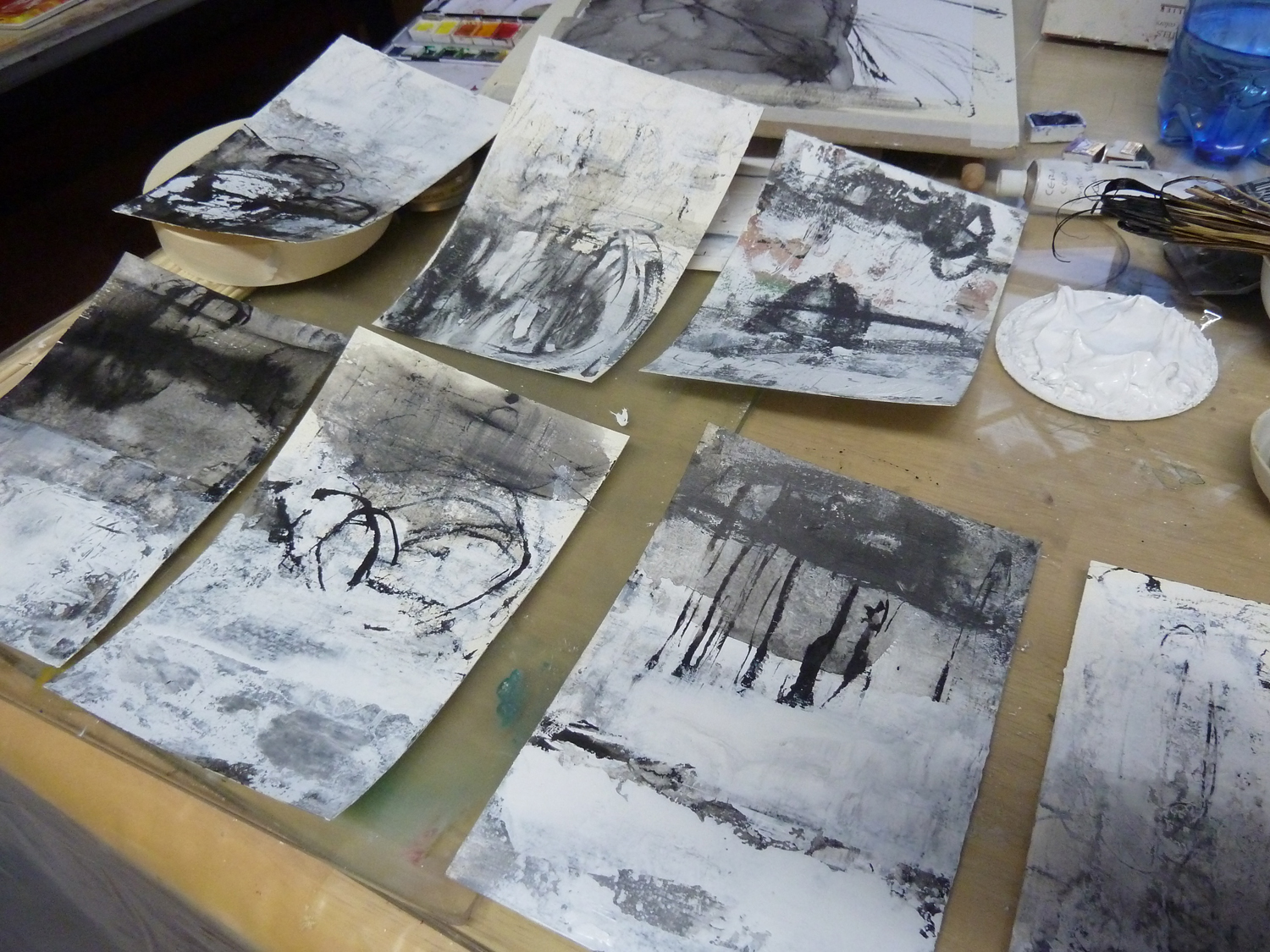 Ink and gesso studies made on a table in the south room in the attic studio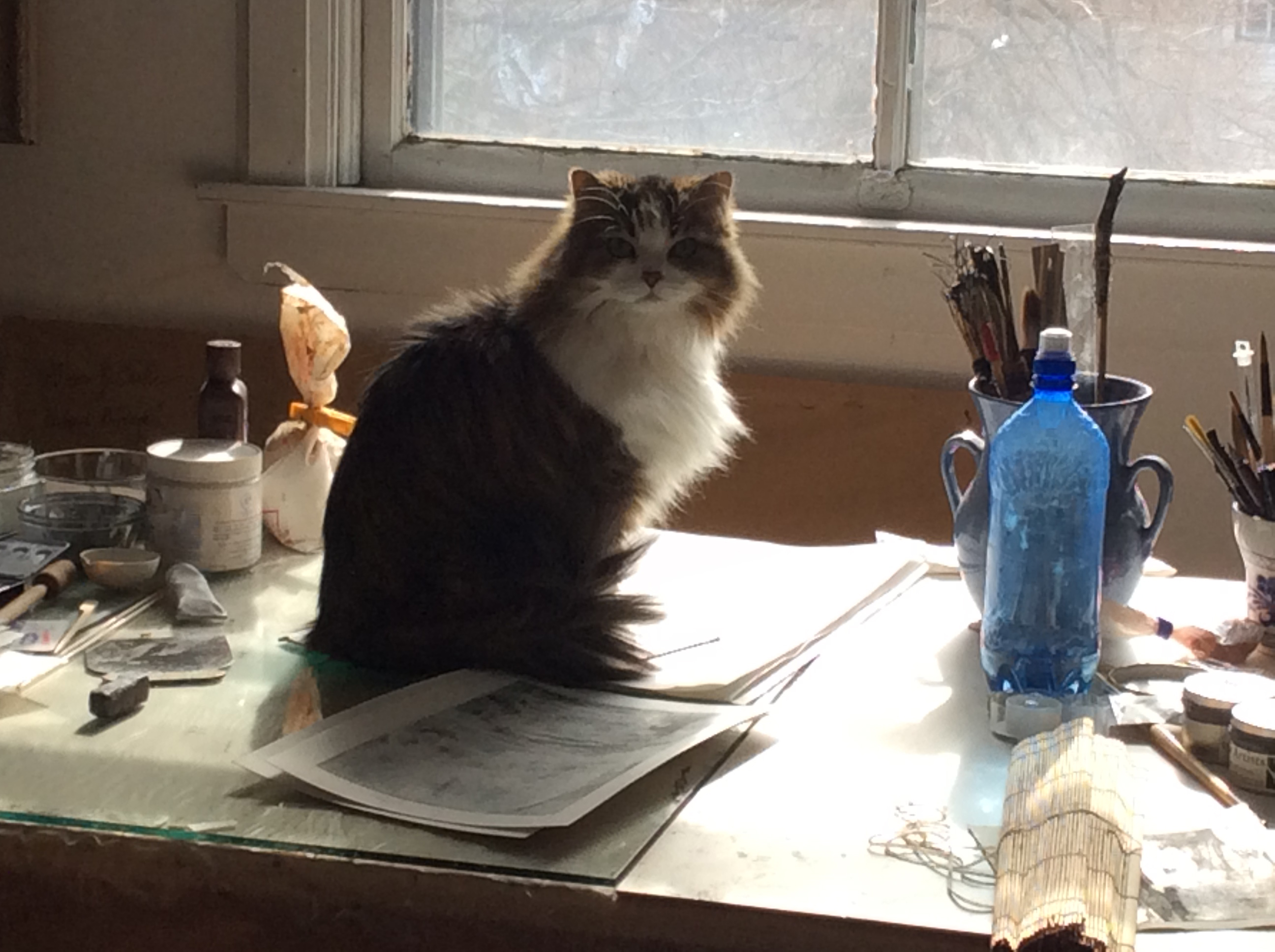 Lilly is always happy when I work at home!