Biography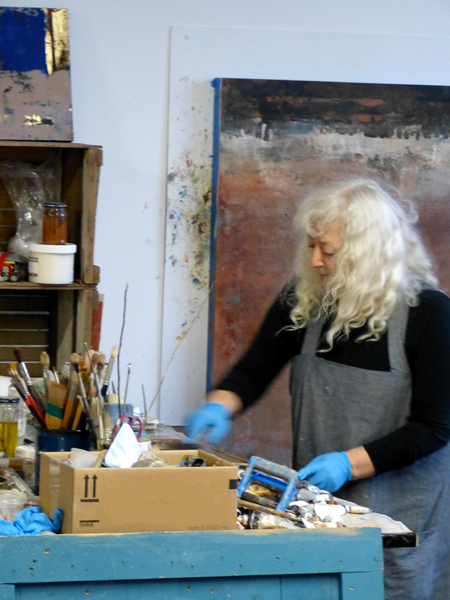 Allison B. Cooke was born in Midwest City, Oklahoma. She spent most of her childhood living on the east coast before moving to Wisconsin in 1970. Allison holds a Bachelor of Science Degree in Art Education from the University of Wisconsin-Madison and a Master of Fine Arts Degree in Drawing and Painting from the University of Wisconsin- Milwaukee.
Throughout her thirty-year teaching career at the college level, Allison taught myriad drawing and painting studio courses, introductory through advanced levels, at the Milwaukee Art Museum, the Milwaukee Institute of Art and Design and, beginning in 2000, in the Department of Art and Design housed in the Peck School of the Arts at the University of Wisconsin-Milwaukee. She is now a full time artist and works out of two studios. Allison paints both in a well-seasoned attic in their old Victorian home, and most often, in a spacious studio within a commercial building in the Lincoln Warehouse next to the Kinnickkinnic River in Milwaukee, Wisconsin.
Allison is the Director and Visiting Faculty for a summer study abroad program, offered through the University of Wisconsin-Milwaukee, at the Santa Reparata International School of Art in Florence, Italy. For the last nine years she has been researching, developing and teaching an intensive four-week summer course in Renaissance Painting techniques focusing on egg tempera and gilding found in both traditional and contemporary 
studio practice. In the summer of 2016, she taught an On-Site (plein air) acrylic painting class in varying locations throughout Florence. In the summer of 2017, Allison is returning to Santa Reparata to teach the Renaissance Painting class. 
Allison has an extensive national exhibition record spanning over three decades. She is in permanent art collections in Germany, Japan, India and Ireland and was recently invited to join an international group of artists in a collaborative traveling exhibition project called The Drawing Box. Allison exhibited her mixed media drawings with these artists in Ireland, Italy, Malaysia and the Philippines. In December 2015, she participated in a group invitational painting exhibition called Kunst is/Art is in Kunstraum, Germany.